COMMUNITY BAND MUSICIANS
You obviously enjoy playing in a group, so have a look at some of our products to enjoy playing at home! What's more, 20% of your purchase $$ will go back into your Band!*
Love to learn to improvise but think you're too old? Read what one such musician had to say:
"After a 30+ year hiatus, I picked up my horn again a few years ago, and Ive been struggling to learn how to improvise ever since. (I've bought just about every course and program out there, but am still trying to "break the code," if you know what I mean.) You have a way of making jazz improv accessible to old guys like me that I haven't come across before, and a way of making it fun, as well."
– T.W. Elliot (Florida USA)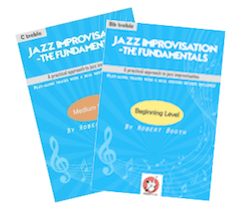 "Jazz Improvisation- The Fundamentals"
It's popular – because it's fun! Playing licks with backing tracks right from the first exercise, this book in beginner and medium level will help you gain a comfort with common chords, as well as develop some licks from basic to bebop.
(Click on the books for a preview)

Or do you just want to play some Dixieland jazz without going through the whole improvisation thing?
Challenge your technique and jazz feel with our play-along books with backing tracks of real musicians including banjo, double bass, piano and drums. Including tunes such as "When The Saints" & "Down By The Riverside" you'll play a couple of jazzed up melodies, and some notated improvisation type solos. (Available for trumpet, trombone and alto sax in easy and medium/advanced levels).
(Click on the books for a preview)

For the musicians who get together with a friend or two to play some tunes
Available for almost every wind instrument, and full of duets and trios from beginner to advanced, classical to jazz, these are the kind of book that you get use out of for years and years. What's more, you can play them with any instrument combinations as the books are all compatible! So if you had a trumpet, clarinet and trombone for e.g., they'll work! Use them with a group of 5-6 even. Just pick a part each to play and you're covered.
(Click on the books for a preview)

Wished you knew a bit more about jazz harmony?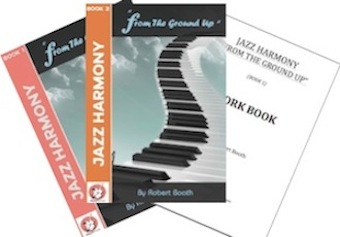 "Jazz Harmony – From The Ground Up"
For the musician looking to begin or extend their jazz harmony knowledge without wanting to bury themselves in a pile of books, these concise publications are for you. From basic chord building, to secondary dominants and tri tone substations, and with exercises to practice on and audio examples these books will get you up to speed.
(Click on the books for a preview)

Tune in to our free "Jazz Lick Of The Week"



For some free jazz lines and tips for the beginning to the more advanced jazz player, visit JAZZ LICK OF THE WEEK
An archive of previous editions is accessible on the front page.
Browse some of our free music while you're there
Including big band, duets, trios, and various other chamber, grab something from Piglet Music for free.
Find the link at the bottom of Piglet Music's homepage. Click Here to take you there.
Purchase some great music and earn your band some nice commission.
* The 20% commission is available only on the listed products on this page. Make sure that you register when you purchase (see the help section on the home page https://pigletmusic.com for info). It's easy and safe. Just follow the steps on the site.
Upon purchasing you will see an "Additional information" box. Please enter your band's name there so that we can forward the commission to them.
Piglet Music
Feel free to contact us with any questions at pigletnotes@gmail.com.
……………………………….