Jazz Lick Of The Week 10a
"JAZZ LICK OF THE WEEK"
Welcome to Piglet Music's "Jazz Lick of the Week".

Here I will post some nice jazz lines to try, and if you like them, add them to your "jazz vocabulary".
Keep a regular eye on the page and you'll find easy to difficult, and dixieland to mainstream to be bop lines, and I will aim to provide backing tracks to play them to.
I keep an archive of all previous Lick Of The Week pages HERE.
For some more "in depth" jazz improv training, check out my Improv Books Here
But let's get on with……….
"JAZZ LICK OF THE WEEK #10a"
This edition is just a short little one. It includes:
– An explanation of the "turn around"
– A JJ Johnson lick from "I'll Remember April" utilising the turn around progression.
– A simpler lick over the same progression.
I'm quite vocal about understanding some (or lots) of the harmony behind what we're playing. (Because I spent so much time in my younger days not knowing anything about it!). Believe me, it really helps with our improv. Rather than soloing chord by chord, it helps us to create longer phrases. (Like making sentences, not just a bunch of words). It also helps us to memorise chord patterns.
So in this edition I'm having a look at the "turn around", which is used everyday in endings, but also in rhythm changes, and the fundamentals of it are seen here in "I'll Remember April".
Here's the links:
Bb Treble Instruments PDF
C Treble Instruments PDF
Eb Treble Instruments PDF
C Bass Instruments PDF
Rob Booth
Track #1
Track #2
Track #3
Track #4 (JJ Johnson)
Track #5
Track #6
POPULAR YOUTUBE TUTORIALS
If you haven't yet watched these clips, have a look for a bit more improv direction.
Improv for Beginners
New To Piglet Music
JAZZ HARMONY BUNDLE!"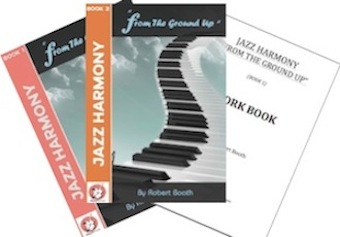 With the recent release of Book 2, I'm currently offering a bundle of Books 1, 2, and the workbook (for Book 1) all for $9!!
For this great price, you can brush up your harmony knowledge on Chord formation and spelling, secondary dominants, tri tone substitutions, modal harmony and plenty more. A work book to accompany each unit in Book 1 can give you practice on each topic (great for school teachers), and audio examples in Book 2 offer what many books don't – the chance to hear what all the technical stuff sounds like.
For the cost of lunch you can be clued up on most of the essential jazz harmony topics! What's more, it's delivered as a digital download, so it'll be on your computer ready for printing in seconds and no postage. (see our help section for info on this very safe and efficient method.)
CLICK HERE to view the books.
This special "bundle" will be available until the end of Feb '17. Join the many that are snapping up this informative and affordable resource!
But most of all, please check in for our upcoming Jazz Licks"