Jazz Lick Of The Week #14
"JAZZ LICK OF THE WEEK"
Welcome to Piglet Music's "Jazz Lick of the Week".

Here I will post some nice jazz lines to try, and if you like them, add them to your "jazz vocabulary".
Keep a regular eye on the page and you'll find easy to difficult, and dixieland to mainstream to be bop lines, and I will aim to provide backing tracks to play them to.
I keep an archive of all previous Lick Of The Week pages HERE.
For some more "in depth" jazz improv training, check out my Improv Books Here
But let's get on with……….
"JAZZ LICK OF THE WEEK #14"
This wasn't a planned week (I'm taking some time off due to a large workload and slowly preparing some other exciting material!), but this trumpet solo got my attention.
Randy Brecker's trumpet solo in "7th Ave South" (Dave Weckl)
It's a fantastic solo – fluid and interesting. I was pleased to see a lot of bebop line references (I'm a big advocate on learning patterns based on this), and some repeated lines. Now please don't see this as a negative, but rather that even the best have their patterns that keep re emerging in different contexts. With my students I work on various methods to develop soloing – triads, rhythmic/stylistic patterns, motifs, and LINES!
So it's primarily aimed at trumpeters this week, but the principle is good for everyone! At the very least have a listen to the solo and have a go at playing it utilising the slowed down track if the original is a bit tough.
No matter what instrument you play have a read. Grab a lick or two and apply them to some dom7 chords yourself.
Included here are:
– pdf containing the transcribed solo, and a close look at a few of the lines.
– original track, slowed down track, tracks for each example.
Please note that some of the rhythms aren't 100% accurate, but I notated them close enough to suit my purposes.
Here's the links:
Rob Booth
Track #1 (Full trumpet solo)
Track #2 (full trumpet solo – slowed down)
Track #3 (ex 1)
Track #4 (ex 2)
Track #5 (ex 3)
Track #6 (ex 4)
Track #7 (ex 5)
Track #8 (ex 6)
– – – – – – – – – – – – – –
Always popular.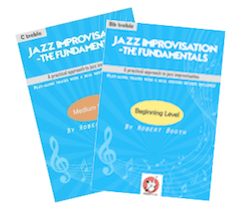 My "flagship" publications, and still very popular. Great for beginners, intermediate, and for teachers to introduce chordal work for young students.
(Click on the books for a preview)

New To Piglet Music
Challenge your technique and jazz feel with our play-along books with backing tracks of real musicians including banjo, double bass, piano and drums. Including tunes such as "When The Saints" & "Down By The Riverside" you'll play a couple of jazzed up melodies, and some notated improvisation type solos. (Available for trumpet, trombone and alto sax in easy and medium/advanced levels).
(Click on the books for a preview)

RUNNING HOT!
This well priced "feast" of jazz harmony has been one of our best sellers over the last few months. And so it should be! For only $9 you can not only get off to a good start with your jazz harmony, but also gain an insight into some more advanced topics. (It's an excellent reference too if you're following "Jazz Lick Of The Week")
(Click on the books for a preview)

But most of all, please check in for our upcoming Jazz Licks"