Jazz Lick Of The Week #10
"JAZZ LICK OF THE WEEK"
Welcome to Piglet Music's "Jazz Lick of the Week".

Here I will post some nice jazz lines to try, and if you like them, add them to your "jazz vocabulary".
Keep a regular eye on the page and you'll find easy to difficult, and dixieland to mainstream to be bop lines, and I will aim to provide backing tracks to play them to.
I keep an archive of all previous Lick Of The Week pages HERE.
For some more "in depth" jazz improv training, check out my Improv Books Here
But let's get on with……….
"JAZZ LICK OF THE WEEK #10"
Following the huge previous edition, here's a short and sweet one 🙂

Included this week are:
– Some licks over the Maj7
– A lick over a Maj6 chord
– A full notated solo over All Of Me containing some licks we've looked at and to give you something to get your teeth into if you're looking for something to practice.
Here's the links:
Bb Treble Instruments PDF
C Treble Instruments PDF
Eb Treble Instruments PDF
C Bass Instruments PDF
Rob Booth
Track #1 (Lick #1)
Track #2 (lick #2)
Track #3 (lick #3)
Track #4 (All Of Me)
POPULAR YOUTUBE TUTORIALS
If you haven't yet watched these clips, have a look for a bit more improv direction.
Improv for Beginners
New To Piglet Music
JAZZ HARMONY – FROM THE GROUND UP (BOOK 2)"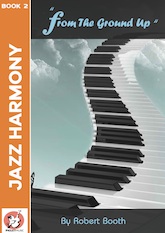 Following on from Book 1, this publication covers a lot of more advanced topics such as Secondary Dominants, Sub V's (tri-tone subs), Modal Interchange and more! At about a dollar a topic it's better value than the daily newspaper!
"Grab a Free duet of "When The Saints!"
But most of all, please check in for our upcoming Jazz Licks"